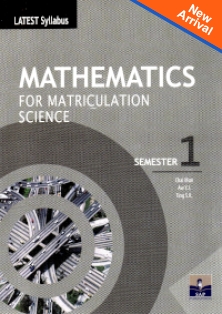 Mathematics For Matriculation Science Semester 1
by author CHAI MUN, AW Y.J. , TING S.K.
•Simple, direct, clear and concise explanations presented in an accessible manner for easy learning.
•Worked example and problem solving techniques reinforce ideas and guide students in applying the new concepts learnt.
•Exercises with suggested answers stimulate thinking and accurately assess students' understanding.
Status :
In Stock
Retail Price :
RM39.90
Now Offer :
RM39.90

ISBN:
9789673218257
Category:
STPM/Matriculation
Format:
KULIT NIPIS
Publication Date:
2022
Publisher :
SAP
Pages:
362
Dimensions (mm):
190 x 258 x 18
Weight:
0.68