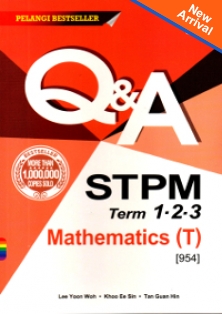 Q&A STPM Term 1.2.3 Mathematics (T) #
by author LEE YOON WOH, , TAN GUAN HIN
Q&A STPM fulfils the need of students in mastering the technique of answering questions effectively to excel in the STPM exam. The questions and answers provided meet the STPM exam standard and are useful as a revision tool.

Features:
• Based on the latest syllabus.
• Arranged according to subtopics.
• Tips to guide students in answering questions effectively.
• Common errors to show common mistakes frequently made by students while answering questions.
• Model paper which follows the latest STPM assessment format to prepare students for the actual exam.
Status :
In Stock
Retail Price :
RM31.95
Now Offer :
RM31.95

ISBN:
9789672878018
Category:
STPM/Matriculation
Format:
KULIT NIPIS
Publication Date:
2022
Publisher :
PELANGI
Pages:
556
Dimensions (mm):
145 x 215 x 25
Weight:
0.65