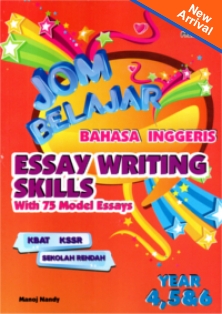 Jom Belajar Bahasa Inggeris Essay Writing Skills With 75 Model Essays Year 4, 5, & 6 #
by author MANOJ NANDY, ,
This book was created to help Upper Primary school students to write more effectively and efficiently in their daily life. It aims to become a pertinent source of practical exercise questions and sample essays for students to use when they are in need of inspiration for their writing exams. As an English teacher, the author uses an approach where students of all sorts of writing styles can surely find an area in which they are not so strong when it comes to writing essays. He helps them to start from scratch from where they are and then progress from there. He covers the Grammatical aspect of English and helps to widen their Vocabulary using simple means and methods. This book will indeed be useful for students to improve their English Writing by leaps and bounds.
Status :
In Stock
Retail Price :
RM13.90
Now Offer :
RM13.90

ISBN:
9789831665374
Category:
Essays
Format:
KULIT NIPIS
Publication Date:
2021
Publisher :
PRESTASI
Pages:
130
Dimensions (mm):
147 x 210 x 6
Weight:
0.16