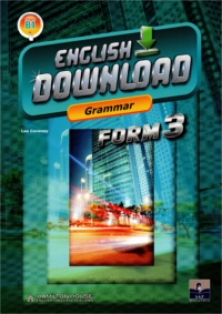 English Download B1 Low Grammar Form 3 #
by author LEE COVENEY, ,
English Download is an exciting new multi-level course. The Intermediate level is suitable for students working to achieve a B1 Low level of competence within the Common European Framework.

English Download B1 Low Grammar is a reference and practice book providing students with further practice of grammar.

English Download B1 Low Grammar contains:
• 10 units that start with a grammar presentation in the form of an interesting web-style page
• clear, simple grammar theories
• a wide variety of practice exercises
• a speaking task and a writing task in each unit that encourage students to use the grammar productively in contextualized situations
• regular progress reviews that consolidate the grammar learnt in the preceding two units

At the back of English Download B1 Low Grammar , there are tables presenting verb forms, a summary of spelling rules and also an irregular verbs list.
Status :
In Stock
Retail Price :
RM17.90
Now Offer :
RM17.90

ISBN:
9789673217694
Category:
ELT
Format:
KULIT NIPIS
Publication Date:
2021
Publisher :
SAP PUBLICATIONS
Pages:
100
Dimensions (mm):
210 x 297 x 6
Weight:
0.26