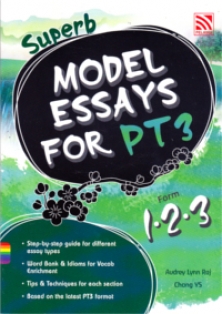 Superb Model Essays For PT3 Form 1,2,3 #
by author AUDREY LYNN RAJ, CHONG YS,
Features:
-This book is designed to help students improve their writing skills. From the interpretation of the planning and writing process, the reader is guided step by step in the Model Essays. This book also includes the latest PT3 format of the Writing Section, which is divided into Short Communicative Message and Note Expansion. Though aimed at Form 1- Form 3 students, this book is also suitable for anyone who wants to write well.
Status :
In Stock
Retail Price :
RM18.95
Now Offer :
RM18.95

ISBN:
9789672499053
Category:
Essays
Format:
KULIT NIPIS
Publication Date:
2021
Publisher :
PELANGI
Pages:
400
Dimensions (mm):
171 x 228 x 19
Weight:
0.58