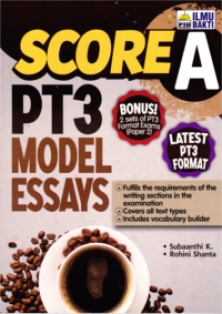 Score A PT3 Model Essays #
by author SUBAANTHI K., ROHINI SHANTA,
• Fulfils the requirements of the writing sections in the examination.
• Covers all text types and topics.
• Includes vocabulary builder.
• Useful guidelines for each text type.
• Two sets of PT3 Format Exams ( Paper2 ).
• Suggested answers.
Status :
In Stock
Retail Price :
RM11.90
Now Offer :
RM11.90

ISBN:
9789674939519
Category:
Essays
Format:
KULIT NIPIS
Publication Date:
2021
Publisher :
ILMU BAKTI
Pages:
156
Dimensions (mm):
184 x 246 x 7
Weight:
0.25