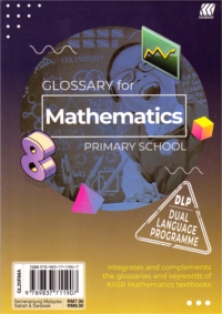 Glossary for Mathematics Primary School #
by author CHO SU MIAN, SUHANA BINTI SOBI, TAN SWEE CHANG
Glossary for Science Primary School integrates and complements the glossaries and keywords of the KSSR Mathematics textbooks.

This glossary reference is an ideal companion for pupils because of these characteristics:
• Relevant key terms explained in English and Bahasa Melayu
• Clear and simple explanation with the examples and illustrations.
• Systematic entries of keywords in alphabatical order.
• Thematic concepts to contextualise and aid understanding of some keywords.
• Labelled diagrams to illustrate important details or features.
Status :
In Stock
Retail Price :
RM7.90
Now Offer :
RM7.90

ISBN:
9789837711907
Category:
ELT
Format:
KULIT NIPIS
Publication Date:
2020
Publisher :
SASBADI
Pages:
106
Dimensions (mm):
147 x 210 x 6
Weight:
0.15