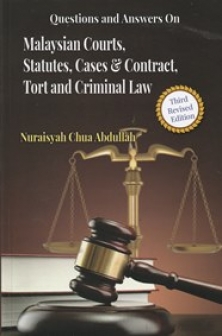 Questions & Answers on Malaysian Courts, Statues, Cases & Contract, Tort and Criminal Law **
by author NURAISYAH CHUA ABDULLAH, ,
This book is aimed to cater to pre-law students and the general public in providing the basic legal knowledge on the above topics. It briefly explains the judicial system, statutes i.e. the Law of Malaysia and three other areas of law i.e. Contract, Tort and Criminal Law. The questions and suggested answers appearing in this edition have been revised as well and are prepared in line with the examination prospect.
Status :
In Stock
Retail Price :
RM69.00
Now Offer :
RM69.00

ISBN:
9789678926904
Category:
General
Format:
KULIT NIPIS
Publication Date:
2018
Publisher :
ILBS
Pages:
628
Dimensions (mm):
150 x 227 x 35
Weight:
1.05