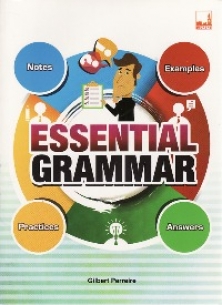 Essential Grammar ~
by author GILBERT PERREIRE, ,
Essential Grammar takes a light-hearted approach to teaching grammar. It aims to help both young and adult learners master the intricacies of English grammar, through easy-to-understand units interspersed with numerous examples and descriptive illustrations.

Grammar books should not be boring and dreary, and its step-by-step style will make learning grammar easy to follow and more enjoyable.
Status :
Out of Stock
Retail Price :
RM12.95
Now Offer :
RM12.95

ISBN:
9781781870525
Category:
Grammar
Format:
KULIT NIPIS
Publication Date:
2016
Publisher :
DICKENS PUBLISHING LTD
Pages:
204
Dimensions (mm):
190 x 258 x 10
Weight:
0.50