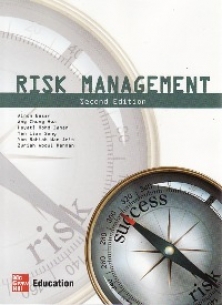 Risk Management, 2/e ~
by author , ,
To say that risk in omnipresent and that no one is able to escape it entirely is not to advocate the philosophy that one should be resigned to it and leave everything to fate. Often, providence makes a vital difference in the way we are affected. Indeed, a proper understanding of a risk situation empowers us to effectively deal with the consequential adversities that may ensue, perhaps eradicate them even.

This book makes no promise of a miracle cure for the ills that risk wreaks on mankind and does not pretend to cover all nature of risk. It is mainly intended to help lay the foundation for a better understanding of physical risk and the human efforts taken in its intervention. In this regard, students undertaking a university course in risk management will find the contents of this book suitable and beneficial.
Status :
Out of Stock
Retail Price :
RM44.00
Now Offer :
RM44.00

ISBN:
9789675771347
Category:
Management
Format:
KULIT NIPIS
Publication Date:
2011
Publisher :

Pages:
235
Dimensions (mm):
193 x 261 x 12
Weight:
0.55