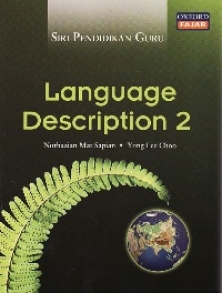 Siri Pendidikan Guru: Language Description 2 ~
by author NORHAZIAN MAT SAPIAN, ,
Language Description 2 is the second book in a series of three reference books which covers the main topics from the course pro forma of Program Persediaan Ijazah Sarjana Muda Perguruan (PPISMP) and B. Ed. TESL. The chapters are sequenced according to the course content of these programmes. This book aims to guide and assist students in developing an overall knowledge and understanding of English language grammar, as well as provide a source of reference to college or university students, practising teachers who are studying English language and teachers who are interested to continue learning and exploring English language grammar.
As the title suggests, Language Description 2 hopes to display a description of the English language based on the grammatical rules covered in Semester 2 of this course in PPISMP. Some of the topics covered in this book include phrasal verbs, phrases, clauses, subject-verb agreements, moods, and sentence patterns and types.

Status :
Out of Stock
Retail Price :
RM38.90
Now Offer :
RM38.90

ISBN:
9789834703578
Category:
General
Format:
KULIT NIPIS
Publication Date:
2011
Publisher :
OXFORD FAJAR
Pages:

Dimensions (mm):

Weight:
0.45