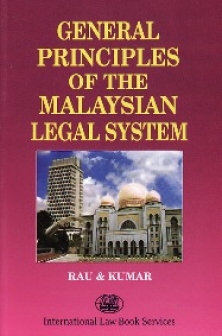 General Principles of the Malaysian Legal System <>
by author RAU & KUMAR, ,
General Principles of the Malaysian Legal System basically traces the history of the ancient laws of this country, way back to the year 1500, very much earlier than the first foreign administration in Malacca by the Portuguese. It elaborates how the customs and traditions practiced by the local those days, were eventually converted to customary laws. The customary laws influenced by the common laws of England and Equity, introduced by the English, led to the formation of the Laws of Malaysia and Islamic Law in Malaysia. An indepth analysis of this development of laws runs to more than three Chapters in this book.

This book, in addition, describes the Parliamentary process of law making, the functions of the Executive, Judiciary and the Legal Profession, as provided for by the Federal Constitution. This historical development of the legal system in Malaysia was gathered from numerous reliable sources by the combined efforts of Mr. Padmanaba Rau (Rau), a Senior Advocate, and Dr. T. Johnson SAmpathkumar (Kumar), who holds a Ph.D in Public Administration.
Status :
Out of Stock
Retail Price :
RM29.50
Now Offer :
RM29.50

ISBN:
9789678916356
Category:
General
Format:
KULIT NIPIS
Publication Date:
2014
Publisher :
ILBS
Pages:
202
Dimensions (mm):
152 x 228 x 13
Weight:
0.45