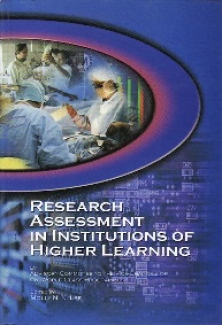 Research Assessment in Institutions of Higher Learning *
by author MOLLY N. N LEE, ,
This book is on quality management and assessment in universities. It analyses the concept of quality and examines the purposes of quality management in higher education institutions in general, and specifically the mechanism of quality assurance of public universities in Malaysia. It describes approaches to quality management and assessment highlighting internal quality assessment, performance indicators and benchmarking.
Status :
In Stock
Retail Price :
RM28.00
Now Offer :
RM28.00

ISBN:
9789838612777
Category:
General
Format:
KULIT NIPIS
Publication Date:
2004
Publisher :
PENERBIT USM
Pages:
69
Dimensions (mm):

Weight:
0.20