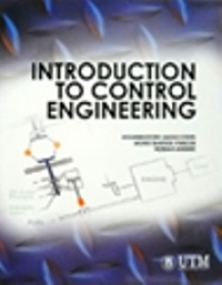 Introduction to Control Engineering ~
by author HISHAMUDDIN JAMALUDDIN, ,
This book is intended to serve as a text book for a first course in control system engineering in higher institutes and universities. The text has been written through the experience of the authors in teaching this subject. Control systems are found in a broad range of applications within various engineering disciplines namely electrical, mechanical, chemical or aerospace engineerings. This book emphasizes particularly on the principle, design and analysis of feedback control system. The contents have been written to be suitable for all branches of engineering.
Status :
Out of Stock
Retail Price :
RM45.00
Now Offer :
RM45.00

ISBN:
9789835207877
Category:
Mechanical
Format:
KULIT NIPIS
Publication Date:
2011
Publisher :
PENERBIT UTM
Pages:
193
Dimensions (mm):

Weight:
0.50